Discover more from Schooling Delaware Newsletter
State of Delaware Education
Juneteenth, 1865
The triumph of personal liberty over oppression
All slaves were not truly free in America on June [nine]teenth 1865, but the significance of Juneteenth lies in the organic grassroot celebrations which arose from that momentous event in Galveston, Texas. Although Juneteenth has been informally celebrated each year since 1865, it wasn't until June 3, 1979, that Texas became the first state to proclaim Juneteenth an official state holiday.
Thanks for reading Schooling Delaware Newsletter! Subscribe for free to receive new posts and support my work.
Juneteenth is also known as Emancipation Day, Freedom Day, & Jubilee Day, and was officially recognized as 'Juneteenth National Independence Day' on June 17, 2021.
The importance of Juneteenth as a national holiday lies in its recognition of an important historical event and the celebration of American progress in overcoming racial inequality. Juneteenth commemorates the emancipation of enslaved African Americans in the United States, specifically in Texas, on June 19, 1865. It signifies the end of one of the darkest chapters in American history and the triumph of freedom and equality.
We must value the preservation of historical traditions and the acknowledgment of key milestones that have shaped the nation. Juneteenth represents an integral part of the American story, reminding us of the progress made towards achieving racial equality and the ongoing struggle for civil rights. By recognizing Juneteenth as a national holiday, Americans can demonstrate their commitment to inclusivity and unity, fostering a shared sense of identity and a collective appreciation for the principles of liberty and justice.
Furthermore, we must uphold the importance of individual freedoms and limited government intervention. Celebrating Juneteenth as a national holiday signifies the triumph of personal liberty over oppression and serves as a reminder of the value of individual rights. By acknowledging the significance of Juneteenth, we emphasize the core American values of freedom, self-determination, and the pursuit of happiness.
We must recognize the importance of family values and community cohesion. Juneteenth celebrations often involve family gatherings, parades, and community events that promote unity, cultural heritage, and the strengthening of social bonds. By recognizing Juneteenth as a national holiday, it will grow support and encourage these traditions, which foster strong families and vibrant communities.
The National recognition of Juneteenth preserves history, promotes unity, upholds individual freedoms, and emphasizes the significance of family and community values. Recognizing and celebrating Juneteenth, allows Americans to demonstrate their commitment to progress, inclusivity, and the enduring principles that have shaped the United States in our continuous pursuit of a more perfect union.1
---
This 14 minute video puts forth some great historical context surrounding freedom of the enslaved, emancipation, constitutional amendments, and Juneteenth.
---
Lincoln's Proclamation of Emancipation
---
The three men shown in this picture from left to right are Blanche Kelso Bruce2, Frederick Douglass3 and Hiram R. Revels4 surrounded by scenes of African-American life. Hiram R Revels and Blanche Kelso Bruce became the first two black men to be elected to congress, only five years after the civil war.
---
Additional historic photographs & documents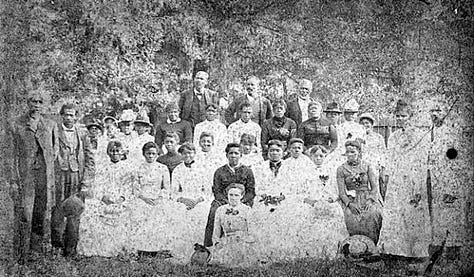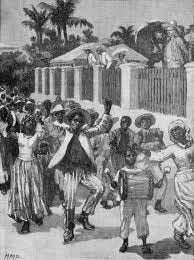 ---
Indeed, Andrew Johnson, a Democrat, who took over the presidency when Lincoln was assassinated, returned land that was given to freed black people by Gen. William Tecumseh Sherman, intended as reparations, back to the slavers. Let that sink into your memory. Black people received enormous amounts of land from Gen. Sherman, a Republican. A Democrat, Johnson, returned the land to the Democrats of the South, those who fought for slavery, over the resistance of Radical Republicans.
---
Adam B. Coleman, a proud father, author, [Black Victim to Black Victor]5 and founder of
wrote this article today which dovetails nicely with what I have written.
Ignore progressives: Juneteenth is a celebration of freedom for all Americans6
June 19, 2023 | New York Post
Juneteenth shouldn't have any political motivations or interpretations attached to it — that weaponizes a momentous time in history to drive a wedge between us all.

It forces people to take a side for or against it rather than understanding that Juneteenth is for us all.
---
1
Preamble to the US Constitution
3
Frederick Douglas, a national leader in the American abolitionist movement, and advocate of the US Constitution. Douglass spoke on many of the issues we still talk about today; Economic Prosperity, School Choice, Free Speech, Immigration, & Personal Responsibility