Discover more from Schooling Delaware Newsletter
State of Delaware Education
Martin Luther King, Jr.
Today is a day to remember his life, his legacy, and his vision of equality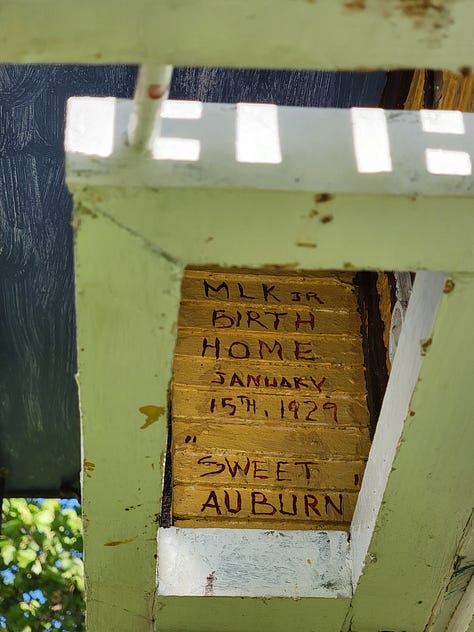 Take this day to honor the legacy of one of the greatest civil rights leaders. An inspirational, influential, & iconic man of impeccable integrity.
Martin Luther King Jr.
---
Enjoy these 10 facts you may not know about Martin Luther King Jr.1
King's birth name was Michael
The civil rights activist was born Michael King Jr on January 15, 1929, to parents Michael King Sr and Alberta Williams King. His father, a minister at Ebenezer Baptist Church in Atlanta, visited Germany in 1934 and became inspired by the Protestant Reformation leader, Martin Luther. King Sr began calling himself – and later, his son – Martin Luther King.
He was the youngest person at the time to receive a Nobel Peace Prize
When Martin Luther King Jr received a Nobel Peace Prize for combating racial inequality through nonviolence, he was just 35 years old – the youngest man at the time to do so. His prize included a check for $54,123, which he donated to various organizations – Congress on Racial Equality (CORE), the NAACP, National Council of Negro Women, Student Nonviolent Coordinating Committee (SNCC), the Southern Christian Leadership Conference (SCLC) and others – to aid in the progress of the civil rights movement.
From 1957 to 1968, King traveled over 6 million miles and spoke over 2,500 times
The SCLC, an organization formed to aid the growing civil rights movement, elected King as its president in 1957; he led the group from its inception until he was murdered in 1968. Founded on Christian values, the SCLC sought to advance the cause of the civil rights movement, but in a peaceful way. Inspired by the teachings of Gandhi, King operated on Christian principles without violence. He traveled across the nation, visiting cities for speeches and protests. During these 11 years, King also wrote five books and published many articles.
The civil rights leader was arrested 29 times and assaulted four times
Although King was admired by many, he was seen as a threat to American security by police officials. He went to jail nearly 30 times, arrested for acts of 'civil disobedience,' including the time he was jailed in Montgomery, Alabama, in 1956 for driving five miles per hour over the speed limit. Even the FBI had concerns; paper trails show that the agency had continued efforts to thwart King's progress. After his "I Have a Dream" speech in 1963, the FBI intensified their investigation into King and the SCLC.
King is the only non-president to have a national holiday in his name
In 1983, President Ronald Reagan signed a bill that would establish a nationally observed holiday in remembrance of King. He is the only non-president to have received such an honor; the other American to have a holiday commemorated in his name is George Washington. The holiday was first celebrated in 1986 on the third Monday in January, close to MLK's birthday on January 15. He is also the only non-president with a memorial located on the National Mall in Washington, DC.
King was awarded 20 honorary degrees and was named 'Man of the Year' by Time magazine
During his lifetime, King received 20 honorary degrees from colleges and universities across the US and around the world. In 1963, he became the first African American to be named Time magazine's 'Man of the Year.' The tribute included a photograph on the cover plus a seven-page article, with several photos of the most memorable moments of his career – such as meeting with President Lyndon B Johnson, and his 1963 arrest in Alabama.
There are approximately 900 streets named after MLK in the US
According to Derek Alderman, head of the geography department at the University of Tennessee, there are approximately 900 streets named after King in the US. After his assassination in 1968, cities across the nation began naming and renaming streets in his honor; even countries such as Italy and Israel followed suit. The number of streets increases every year, with 70 percent in Southern states, including Alabama, Texas, Florida, Mississippi, Georgia, Louisiana and North Carolina.
King was nearly assassinated 10 years before his death
On September 20, 1958, King was in Harlem signing copies of his new book, Stride Toward Freedom, at a local department store, Blumstein's. A woman named Izola Ware Curry approached him, asking if he was Martin Luther King. When he replied yes, she said, "I've been looking for you for five years," and stuck a letter opener into his chest. The blade came close to penetrating his heart, nestled just along the side of his aorta. After several hours of surgery, King emerged alive; doctors later told him that "just one sneeze could have punctured the aorta" and killed him. King later issued a statement that he felt no anger or ill will towards the woman.
His mother was also murdered by a gunman
On June 30, 1974, Alberta Williams King was shot by a maniacal gunman who claimed that Christians were his enemy and that he received "divine instructions" to kill King's father. However, because Alberta – who played the organ on Sundays at Ebenezer Baptist Church – was closer to the assailant, he opted to shoot her instead. The man was convicted, receiving the death penalty sentence, which was later changed to life in prison, partly because King's family did not believe in capital punishment.
King's last public speech foreshadowed his death
On the night before his assassination, King traveled to Memphis to give a speech in support of the city's African American sanitation workers. At Mason Temple Church, he told the crowd, "Like anybody, I would like to live a long life. Longevity has its place. But I'm not concerned about that now… I've seen the Promised Land. I may not get there with you. But I want you to know tonight, that we, as a people, will get to the Promised Land. And I'm happy tonight. I'm not worried about anything. I'm not fearing any man. Mine eyes have seen the glory of the coming of the Lord."