Discover more from Schooling Delaware Newsletter
State of Delaware Education
Sold a Story: Thomas Sowell, McGuffey, and Eliminating Dogmas
A look inside an 1857 McGuffey Sixth Grade Reader
---
This is a continuation of the previous post, 'Sold a Story'
---
The Dogmas
Americans have become accustomed to the dogmas of the government public school apparatus. The preconceived notion that schools in impoverished communities are destined to fail. That the situation those studens face at home will limit the success that can be achieved at school. The ill-conceived belief that academic standards must be lowered for those children to 'succeed'.
Thanks for reading Schooling Delaware Newsletter! Subscribe for free to receive new posts and support my work.
If you believed any of those prescribed dogmas, then you have been sold a story.
As says the quote you are greeted with upon first visiting 'Schooling Delaware'; said by The Great Educator, Booker T. Washington:
"Character, not circumstance, makes the person"
Those dogmas must be challenged. When those dogmas are once again eliminated, we become a more prosperous Nation. The academic success those students achieve at school improve the situation those students face at home.
Jamie Escalante1, a Bolivian-American immigrant, challenged the failing academic standards. Escalante's methods yielded such positive results that the testing board would not accept the students' score due to their ignorant conclusion that they must have cheated.
I look forward to sharing Jamie Escalante & his students' inspirational story in a future post.
---
Thomas Sowell
Thomas Sowell has written extensively on many topics, including the topic of education.
The purpose of education is to give the student the intellectual tools to analyze, whether verbally or numerically, and to reach conclusions based on logic and evidence.
—Thomas Sowell
One such book is Sowell's 1993 'Inside American Education: The Decline, The Deception, The Dogmas', a book written for today - 30 years ago!2
Below is a 1993 interview with Thomas Sowell from the Diane Rehm Show discussing 'Inside American Education'.
Alan Wohlan, host of "The Genius of Thomas Sowell"3 podcast has released a continuing multi-part series on the substance of Sowell's 'Inside American Education'. The first episode features clips of the above Rehm interview, along with commentary on how it relates to government public education today.
This episodes, as well as the other episodes of Wohlan's Inside American Education series are listed with links & details at the bottom of this page.
---
This excerpt from the pages of 'Inside American Education' specifically speaks on the hypocritical tactics used when new curriculum is merely questioned, while the complete replacement of McGuffey Readers went virtually 'unchallenged'.
---
Throughout the writings of Thomas Sowell, you will find emphasis on the significance of a strong educational foundation, particularly in the early years of schooling. Sowell makes the case that a phonics-based education, like that of which is taught in McGuffey Readers4, is crucial for several reasons:
Mastery of Language

Sowell believes that phonics-based education provides a solid foundation for language mastery. By teaching students the connection between letters and their corresponding sounds, phonics enables them to decode and understand words more effectively. This understanding is essential for overall reading comprehension, writing, and communication skills.
Independent Learning

Sowell emphasizes the importance of empowering students to become independent learners. A phonics-based education equips students with the tools to decipher words on their own, allowing them to read and understand texts independently. This self-reliance fosters a sense of confidence and motivation, which are crucial for academic success.
Critical Thinking

Sowell argues that a phonics-based education enhances critical thinking skills. When students understand the systematic relationship between letters and sounds, they can apply this knowledge to decode unfamiliar words and derive meaning from them. This ability to analyze and synthesize information is a fundamental aspect of critical thinking.
Writing and Spelling Proficiency

Phonics-based instruction also supports spelling and writing proficiency. By understanding the rules and patterns of phonics, students can apply this knowledge to spell words correctly and express their thoughts through writing. Strong spelling and writing skills are essential for effective communication and academic achievement.
Equality of Opportunity

Sowell advocates for an education system that provides equal opportunities for all students, regardless of their socioeconomic background. He argues that a phonics-based education, like that found in McGuffey's readers, offers a structured and systematic approach that can benefit students from all backgrounds. It provides a level playing field and enables students to develop the foundational skills necessary for success.
Below I include some excerpts from Sowell's 2005 Book "Black Rednecks and White Liberals" which provide evidentiary facts that defy the current dogmas within public education.
Throughout Thomas Sowell's books, he makes mention of McGuffey's readers. I have since purchased an 1857 edition of a McGuffey sixth grade English reader. (for only $5!) I have posted images of that book below.
You never know what treasures can be found within these books.
---
Inside an 1857 McGuffey Sixth Eclectic Reader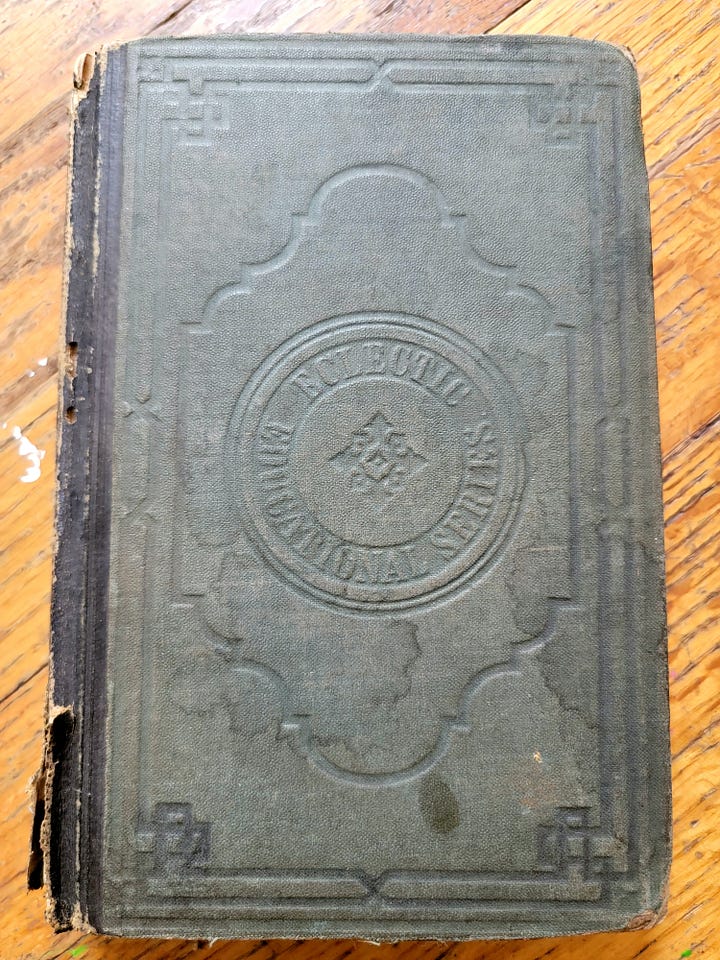 Included within the first pages of the book is an amazing poem written by someone influential & inspirational to the one of students the book belonged to.
George E. Singleton is one of the names inscribed inside the cover.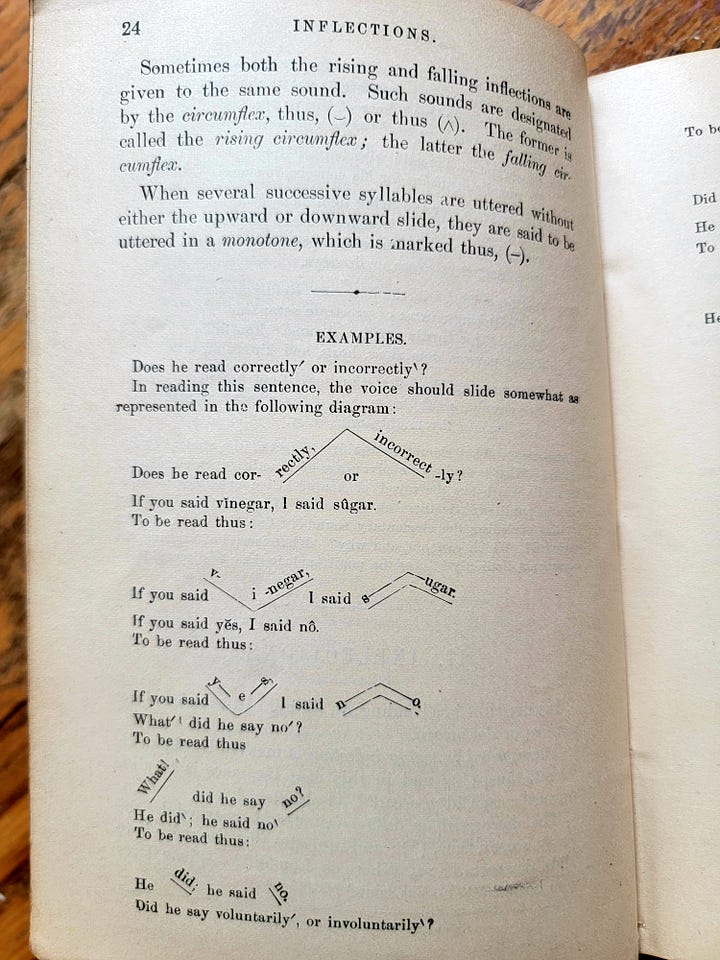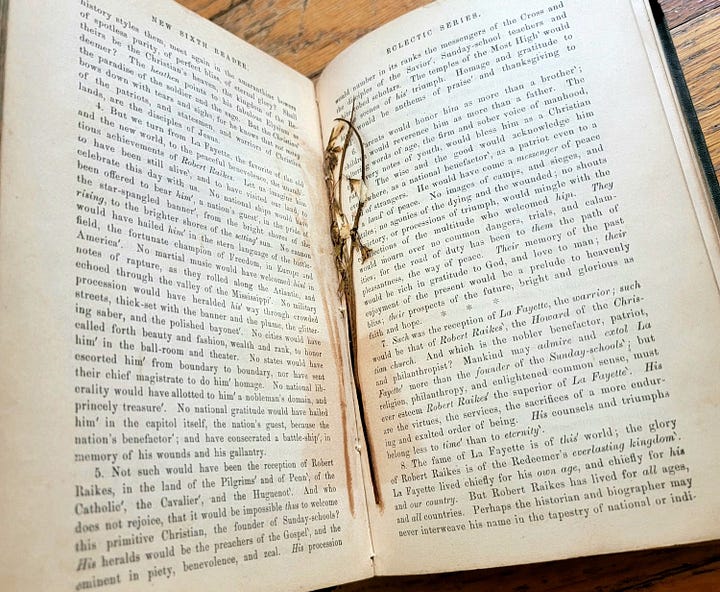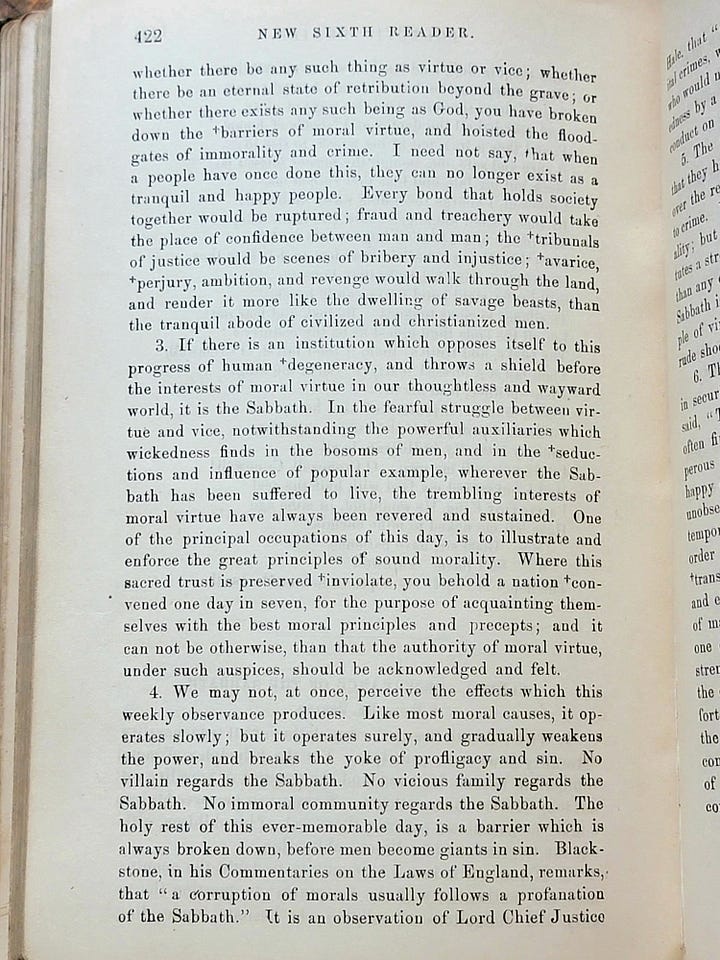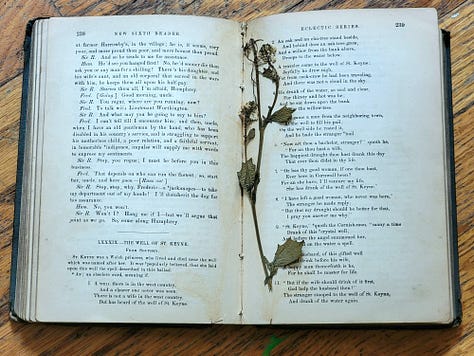 ---
The Genius of Thomas Sowell "Inside American Education" Podcast Series
---
Sowell and the American Education System • Part I
This episode features a January 1993 interview with Thomas Sowell about his book "Inside American Education."

This episode is the first in a 3 part series* about this book and about the subject of American education in general.

The original 1993 fifty minute Sowell interview is split up into bite sized clips and Alan interrupts the interview in order to comment on various aspects of what is being discussed and how it relates to the present situation 29 years later.
Alan mentions an article about the issue of selective public schools changing their admission criteria because of racial quotas, you can find that article HERE.
*The intellectual prowess could not be contained within only 3 episodes
---
Ramona Bessinger on Sowell's "Inside American Education" • Part 2
In the previous episode, we listened to a 1993 interview with Thomas Sowell about his book "Inside American Education," and we let Sowell himself introduce us to the main themes of that book. 
In this episode, I'd like to present a more structured summary of "Inside American Education" and discuss my thoughts on some of the key arguments of the first half of the book. Later in the show I interview an elementary school teacher named Ramona Bessinger about her take on the arguments in Sowell's book and whether or not the trends identified by Sowell are still happening today, 30 years later.
---
The Dogmas of American Education: A Panel Discussion • Part 3
In this episode, we discuss the educational dogmas presented by Thomas Sowell in Chapter 4 of his 1993 classic "Inside American Education."

The 6 dogmas outlined by Sowell in Chapter 4:
1) Multicultural diversity
2) Sensitivity
3) Relevance
4) Educating the whole person
5) Role Models, and
6) Self esteem
We are joined by a panel of well known public school teachers:

• Ramona Bessinger: a 23 year veteran English teacher in Providence, RI. Twitter: @RamonaBessinger

• Frank McCormick: Frank has taught history for 10 years at Waukegan High School and Loyola Academy in Illinois.  He is an outspoken critic of the critical social justice movement and expresses his views on his Youtube channel HERE and on his Substack HERE.
Twitter: @CBHeresy

• Tony Kinnett: Tony was a public school science teacher in Indianapolis as well as a school administrator. He was fired from both of those positions for speaking out in opposition to an educational agenda which he feels is harmful to his students. He is also the founder of the "The Chalkboard Review" which is a website dedicated to featuring a diverse range of voices on all topics education related. Twitter: @TheTonus.
---
Affirmative Action and Sowell's "Inside American Education" • Part 4
In this episode, we turn our attention to Chapter 6 of Thomas Sowell's 1993 book "Inside American Education." Sowell named the chapter "New Racism and Old Dogmatism" and his focus there was to analyze the real world effects of affirmative action policies which began in America in the 1960's.

Sowell makes a very surprising and counter-intuitive argument in this chapter; namely, that affirmative action policies, also called preferential admissions policies, don't actually benefit the people they are intended to help. Sowell makes the claim that these policies not only harm their intended beneficiaries but that they also set in motion a series of incentives and constraints which harm the university system as well as society in general.

This episode includes:
• A summary of Chapter 6;
• Interviews with students on campus of an elite Los Angeles University;
• Clips from other Sowell books, Sowell interviews and other podcasters.

Notes:
• Here's a LINK to the full Chapter 6 of the book so you can read it for yourself;
• Here's a LINK to the MIT announcement referred to in the podcast;
---
Mediocracy and Affirmative Action • Part 5
In this episode, we continue to explore the subject of Affirmative Action which was inspired by reading Chapter 6 of Thomas Sowell's 1993 classic "Inside American Education."

You can read Chapter 6 HERE.

We touch on the following subjects:
• A case now before the US Supreme Court about affirmative action
•  MIT bringing back the SAT exam
• Elite high schools turning away from academic admissions exams
• Will law schools no longer require that applicants take the LSAT?
• Why students can now get 100 extra points on their SAT for living in a rough neighborhood
• Affirmative action in TV commercials?
• Should casting TV commercials be the same as casting university students?
• Social Engineering

Today's episode features two separate interviews with scholars who study Affirmative Action:

1) Peter Arcidiacono: Professor of Economics at Duke University.
You can find Peter's CV and articles HERE.

2) Zachary Bleemer: Soon to be Assistant Professor of Economics at Yale University.
You can find Zach's CV and articles HERE.
---
1
Trailer from Stand and Deliver; the movie based off the true story of Jamie Escalante.
2
The Genius of Sowell podcast plays an old 1993 radio interview for the release of 'Inside American Education'. What you will hear is striking. This kicks off of a series of podcasts discussing Sowell's book.
3
Introduction to 'The Genius of Thomas Sowell' podcast
4
McGuffey's Reader was a series of textbooks written by William McGuffey during the mid-nineteenth century. McGuffey gained prominence as a professor of mental and moral philosophy at Miami University and eventually the University of Virginia. The McGuffey's Reader became the standardized reading text for most schools across the United States during the mid to late nineteenth century. First published in 1836, eventually McGuffey's Reader became a multi-volume work consisting of six different levels of difficulty. Very different from modern-day textbooks, the McGuffey's Reader contained religious messages and sought to instill morality in its readers. Between 1836 and 1890, McGuffey's publisher printed and sold more than one hundred million copies of McGuffey's Reader. Practically every American who attended public schools during the second half of the nineteenth century learned moral and ethical lessons from McGuffey's Reader. (McGuffey's Reader - Ohio History Central)